What critical issues do EMT Academic Success Coaching service address for Institutions?
"Schools and colleges that partner with EXCELMEDICALTUTORSSM through referrals will witness greater mission accomplishment" ......EMT Administrator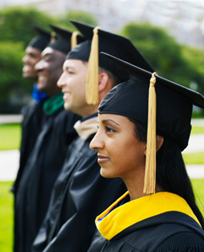 What critical issues do EMT's Academic
Success Coaching Address for Institutions?
Freshmen Attrition
Studies confirm that freshmen in medical and allied health schools have the hardest time settling down and adjusting to the tough challenges of learning in such intense environment. Not unexpectedly, without adequate support, freshmen attrition rate in health institutions is highest for all semesters.

Understanding the impact of high freshmen attrition rate on institutional prestige and mission accomplishment, EXCELMEDICALTUTORSSM has developed qualitative and proprietary academic coaching services to remedy this issue on behalf of health institution that have need to outsource academic support programming.

Instituted as early as possible in the admission phase of a freshman's life in school, EXCELMEDICALTUTORSSM academic success coaching will measurably achieve reduction in student attrition rate by a minimum of 10% per semester. Such level of attrition reduction impacts institutional bottom line and mission accomplishment as well as improve students' satisfaction index with their respective institutions - a wholesome win-win situation for all parties.
Student Retention and Graduation
Improving student retention and graduation rate is an ongoing issue in many health educational institutions. A success factor for institutional attainment of such goal is effective academic success programming. Though not the only element, coaching is a key component of academic success programming. Coaching lays the foundation for improving a student's self reliance and confidence for personal self-assessment and discovery. Coaching motivates and promotes the adoption and implementation of study plans, effective time management and skills for problem identification and resolution. Coaching provides a student with context and a safe environment to discuss specific challenges, opportunities and strengths and get independent feedback that helps shape personal and academic accomplishment and by extension institutional mission accomplishment. EXCELMEDICALTUTORSSM provides live one-on-one e-coaching support to students and helps institutions achieve their goal of improving retention and graduation rates.
Pass Rate
The one-on-one e-coaching service of EXCELMEDICALTUTORSSM helps to generate a passion for learning and assurance for accomplishment in enrolled students. This of course translates to consistent and improved pass rate at each level of students' academic endeavors. In this effort, EXCELMEDICALTUTORSSM works to free academic leaders to focus on other equally important school issues and mission enhancing opportunities.
Communication
Clear and effective communication between students and academic leaders is essential for both student and institutional mission alignment. Coaching provides a means for students to gain clarity and focus on institutional and learning objectives. Coaching supports and encourages students to communicate with institutions in healthy and non-confrontational and productive ways. The specific communication skills that are addressed by coaching are listening to learn, asking questions to gain clarity and resolve ambiguities, seeking for truth rather than making assumptions. These are services that EXCELMEDICALTUTORSSM one-on-one e-coaching service to students brings to the table to support institutional mission accomplishment and bottom line.
Morale
How may academic success coaching affect morale? Coaching provides a safe place where students can talk about their challenges and opportunities in a confidential environment. Especially during times of stress and self-doubt, coaching allows individual students to openly share their concerns and gain a different, objective and non-biased perspective that contributes to successful resolution of concerns. A student's morale is most often readily raised by just having a safe, objective person (a Coach) to talk to; thus making him or her feel much better. EXCELMEDICALTUTORSSM one-on-one e-coaching service is an essential program for building student morale within and outside the school environment towards personal and professional success.
Student body - Institutional Alignment
A student body with high retention and graduation rates that has a healthy relationship through effective communication with its academic leaders would more easily than not, align itself with institutional mission, goals and objectives. This of itself should provide strong incentive to use EXCELMEDICALTUTORSSM one-on-one e-coaching service to help shape and facilitate high student body satisfaction index with their respective institutions and by extension achieve organizational alignment and understanding.
Institutional Prestige and Competitiveness
When a student body is suffused with high satisfaction index, it constitutes a powerful social network that drives and promotes institutional accomplishment, prestige and competitiveness within the educational sector and community of learners. This is good for institutional bottom line and long term development and points to the potential benefits of EXCELMEDICALTUTORSSM one-on-one e-coaching service for institutions and their sponsored students.
Institutional Mission Strengthening
Institutional mission strengthening on a rolling basis is critical for sustainable accomplishment of short to long term goals. To this end, institutions need to do whatever it takes to identify processes, resources and partners that support and strengthen their respective missions. EXCELMEDICALTUTORSSM with its e-coaching service among others is one such reliable and dependable partner and resource well. As EXCELMEDICALTUTORSSM e-coaching service provides students with tools for success learning, it also consequentially helps to build increasing trust, comfort, reliance and assurance in them as to the commitment of their sponsoring institutions to train them at the highest level of standards towards the attainment of their individual goals. Such enhancements of trust in students can only but help strengthen institutional mission accomplishment and this is a promise of EXCELMEDICALTUTORSSM Coaching service.
Contact Us to enroll your students in EXCELMEDICALTUTORSTM Academic Success Coaching